Greetings~!
Today I will talk about this really easy to use software.
As you all know, the trend right now is taking lots of pictures right?
I mean, yes, taking pictures has always been here for such a long time but it is increasingly popular now more than ever since phones can be used to take pictures.
So, yes, everyone knows how to take a picture. But does everyone knows what to do with the pictures after?
Here I introduce to you the art of scrapbooking, using a computer!
What software is it?
Well, it is…….
PICTURE COLLAGE MAKER!
Behold, the icon: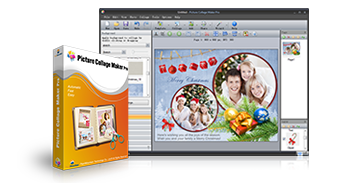 How can you benefit from Picture Collage Maker Pro?
* Improve your efficiency :130+ deluxe templates and 'Collage Wizard' make you create your collage within 5 minutes.
* Save money : Just for $39.90, you can make as many collages as you can.
* Transform your ordinary photos and pictures into Precious Memories.
* The best way to Share photos with your friends.
Ok!
So after installing and clicking on the desktop icon, here's what you will get:
After either purchasing or continuing the trial, you will then find this:
It is so ridiculously easy to use that you won't need a tutorial to know how to start!
I shall now introduce the left sidebar.
Let's start off with the template!
Template:
Here's the options that you can choose:
Here's how one of the calendar template looks like:
An example of the greeting card template
The layout template:
And the photo album template:
Looks really nice right? Well, if you aren't creative, you can just take a pick from templates. There are many many many more designs!
Plus, you can even download more templates!
Isn't that awesome?
Background:
For those who are creative and can absolutely start everything from scratch without the help of templates, start off by choosing a background.
You can actually choose between stretch and tile.
Photo:
Inserting photos is like super super easy! Why? Take a look below:
Yes, you just click on the desired folder and then double click on the photo which will appear as icons.
Mask:
You might ask what is mask?
Well, as an easy explanation, I have 2 pictures below to show what mask is:
The frame inside the green thing is the one being masked.
Well, basically, it changes the shape of the thing where your photo will be.
Frame:
Here's an example of cartoon frame:
Second one is classic & third one is general:
Clipart:
You can also add clipart to the picture.
The options are ALOT!
And that's it!
Isn't this software super easy to use?
For more info & pictures & tutorials, head over to http://www.pearlmountainsoft.com/picture-collage-maker/
In the beginning, I did mention how people of this generation are constantly on their phones?
Well, since most of you people own an iPhone or iPod or iPad, the creator of this software has created the iOS version which is absolutely free!
IOS:
Picture Collage Maker for iOS 1.4.0 is a free app that enables you to create personalized collages quickly and easily on iPhone and iPod Touch.
Features include:

10+ templates (support blank projects) and many more additional theme packs and art resources.
Add photos from library/Facebook or take photos right in the app.
Powerful editing features.
Share collages anywhere you want.
Save & reopen projects for future editing.


Download it on the App Store: http://appstore.com/picturecollagemaker.
Know more about the app: http://www.pearlmountainsoft.com/picture-collage-maker-for-ios/index.html.
Note: This software was given to me for review purpose but this does not affect my review in anyway.
If you have any questions regarding this software, you may leave a comment and I will try to answer you.